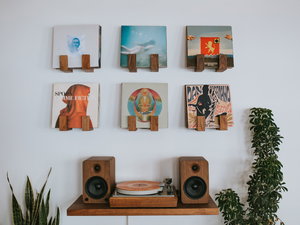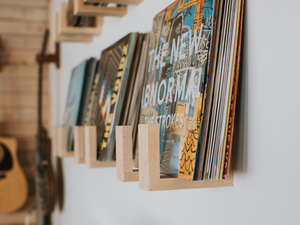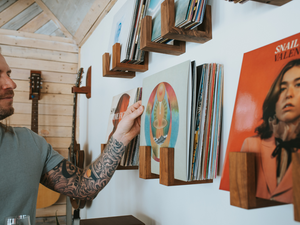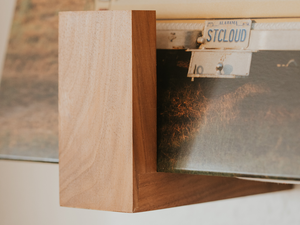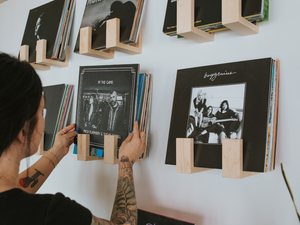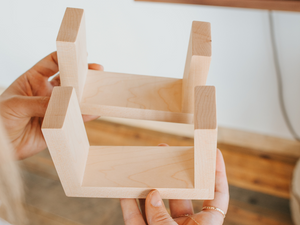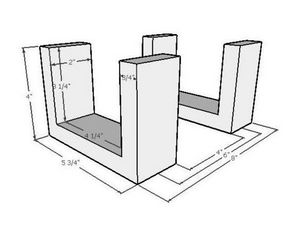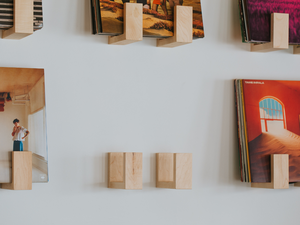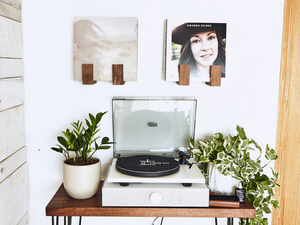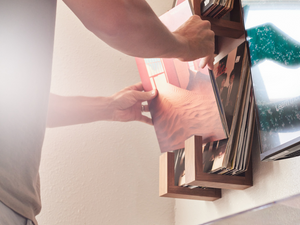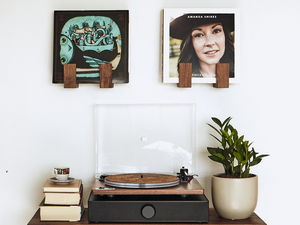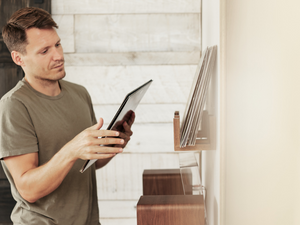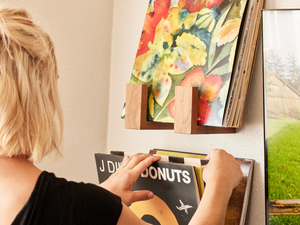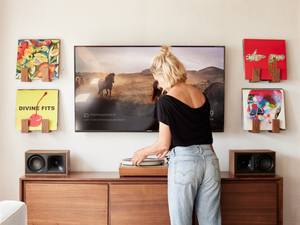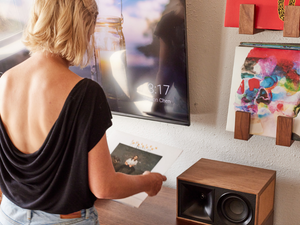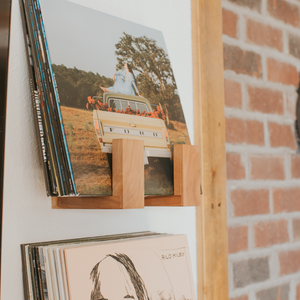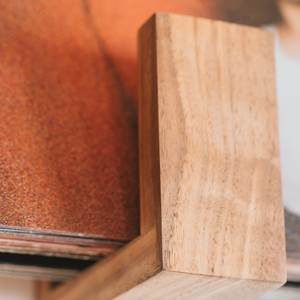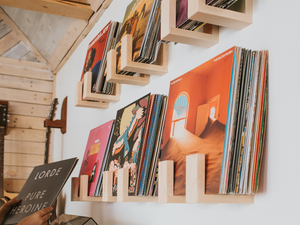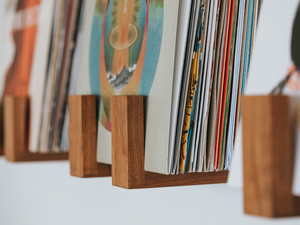 Shop All
Flip Record Display Shelf
The perfect way to display and store your records on the wall in style. These simple, floating brackets hold up to 20 records per set while displaying your favorites at the front. Each set is handcrafted from 100% hardwood, walnut or hard maple in small batches to stylishly display your vinyl within the natural beauty of hardwood, available in rich, dark walnut or light hard maple.
DETAILS:
Each Flip Record Display Shelf holds up to 20 records
Easily wall-mounted using keyhole mounting
Order includes two hardwood bracket style pieces (combined to make 1 single "shelf" or rack) and mounting hardware
Dimensions / Specs

Flip FAQs

About Deep Cut

Shipping Details
Height: 4 inches tall

Width: 2 inches wide (recommend mounting so the total width from outer edge to outer edge is approximately 6 - 8 inches)

Depth: 5 3/4 inches (including 4 1/4 inch of internal depth)

Weight: Roughly ~1lb (capable of holding up to 10lbs of static weight if installed correctly on a surface in good condition)
"How many are in an order?": Each "set" of Flips are sold individually. A set is made up of 2 individual pieces / racks that, together, make up one floating rack. Images in product listing show single sets and multiple sets with common uses and arrangements.
"Can I install on drywall / sheet rock / brick / plaster / other?" The hardware provided is ideal for drywall with lumber studs. However, installation is possible on most surfaces but in some cases may require specialized hardware. If the wall surface you plan to install into is one of these alternative surfaces, we suggest researching the best hardware for that surface. Since Flips use a keyhole mounting system, ultimately one just needs a screw head protruding ~1/4" on which to mount with a sufficient head size to hold.
"How much weight can they hold?": They are designed to hold up to 10 lbs of static weight when mounted correctly on walls that are in satisfactory condition. The weight of 15 - 20 records, the amount of records there is space for, is significantly below that weight threshold.
"Do they come with mounting hardware?": Mounting hardware (ideal for drywall on lumber studs) is provided along with detailed installation instructions.
"Do they come stained? Can I stain or paint them?" Our products are not stained or painted, but they are sealed using solvent-based polyurethane to protect them from moisture, sun damage, and to bring out the natural rich color of the wood. They, therefore, cannot be stained. However, they can be painted. Please consult your local hardware store or paint expert for details.
Deep Cut products are handcrafted in small batches to the last detail in our Minnesota woodshop. We make things that help you get more enjoyment out of your home. Records, books, plants, cocktail culture, the kitchen, games - if it helps you get joy from your space, we want to help and with style. We source the most premium hardwood materials from local suppliers and do everything we can to preserve the natural beauty of those materials while making things that will last. Each piece is designed to be easy to install for most DIY skill levels in a variety of environments.
Deep Cut products are made produced in small batches with tender love and care. Although most orders ship within 1 - 4 business days, production scheduling can vary. Please allow 3 - 7 business days for for orders to be fulfilled within the US market.
NOTE: Walnut Wall Cubes are currently 2 - 4 weeks out from shipping. For more info, please contact rich@deepcut.co
Domestic Orders: We use UPS Ground as our primary carrier services for most shipments. These services typically deliver between 2 - 5 business days. For some products, you will be given the option of USPS First Class OR UPS Ground. USPS First Class also generally delivers within 2 - 5 days of shipment.
International Orders: We use USPS International Priority or UPS International depending on the destination and product. Delivery timelines are very difficult to guarantee based on current global logistics. All duties, taxes, and other fees associated with the destination countries policy are the responsibility of the purchaser.
---