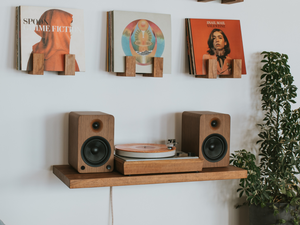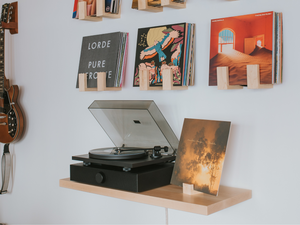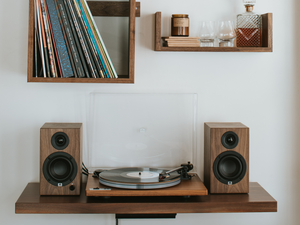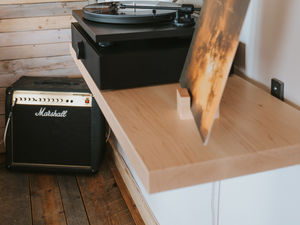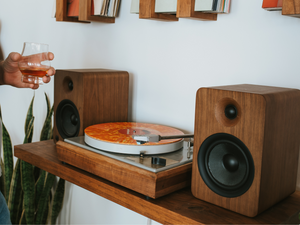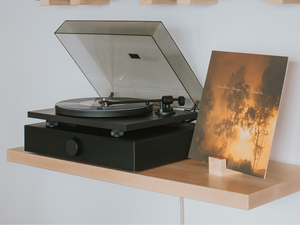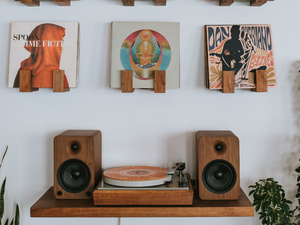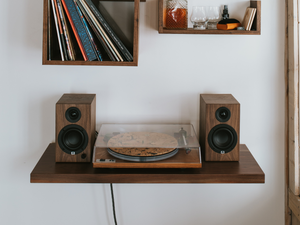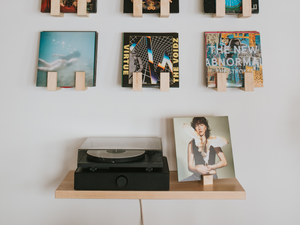 Shelving & Display
Floating Record Player Table
The Floating Record Player Table is the perfect home for your record player setup. Because that is exactly what it was designed for. This wall-mounted table features a clean look free of messy wires, the beauty of natural hardwood, vibration dampening design for better sound, and a small footprint suitable for most any space. Every last detail was considered in the design. Every component is best in breed. From the thick hardwood slab to the hand-welded brackets to the powder-coated metal cable management cubby, this is form meets function in the most satisfying way. It's the premium record player shelf that your system deserve.
*Record display shelves and record stand in photos not included*
NOTE: These pieces are generally made to order and can take 4 - 8 weeks to produce and ship. If timelines are a concern, email rich@deepcut.co for more information. 

What's Special About It?

Dimensions / Specs

FAQs

About Deep Cut

Shipping Details
The Slab: Thick 1-1/2" handcrafted wood slab, available in rich walnut and light maple. The premium hardwood slab in sealed but unstained with all its natural beauty.
Wall Brackets: Hand-welded, heavy duty, steal brackets that feature vibration dampening hardware that are also very easy to install and adjust.
Cable Management: Premium quality metal cable management shelf that hides cords and wires leaving only a single power cord visible.
Size: 36" x 15" of usable surface. Ideally designed for most modern turntable and powered speaker setups (and smaller traditional setups) while being small enough to fit into small nooks and spaces in the home.
Wall-Mounted: No table legs: less floor vibration, toddler-resistant (this we've tested ad nauseam), doesn't take up floor space, floating look, flexible placement.
Thickness: 1-1/2 inches thick solid hardwood

Width: 36 inches wide

Depth: 14 inches deep (front edge sits 15 inches out from the wall including 1" gap from wall for cords and wall brackets)

Weight: Roughly ~35lb including wood slab, handwelded steel brackets, cord management cubby, and hardware.
"How long will it take to arrive?" These pieces are most often made to order and therefore can take 6 - 8 weeks in many cases. If you have timeline concerns, email rich@deepcut.co for more details.
"What's included?" The "tabletop" (aka wooden slab), 2 x hand-welded wall brackets, 1 x cable management cubby, all necessary installation hardware, installation instructions.
"What is the shelf made of?" The thick 1-1/2" wood slab is made from 100% hardwood, either dark walnut or light hard maple. The brackets are made from handwelded steel. The cable management cubby is powder coated metal.
"How much weight do they hold?" When mounted correctly using the supplied mounting hardware, these shelves are rated to hold more than 90lbs of static weight. The total weight of the shelf including the wood slab, the handwelded steel brackets, the cable management cubby, hardware, and tyiplcal powercord / cable bundle is ~35lbs.
"How much surface area does the floating table have for my record player / AV equipment / other? The surface of the table is 36 inches x 14 inches plus an inch gap between the wall and "table" in the back yielding a "usable dimension of 36 inches wide x 15 iches deep. This is the ideal depth for most modern and many vintage turntables as well as most modern powered and bookshelf speakers.
"What kind of brackets does the "table" use? How do they work"? The Floating Record Player Table comes with heavy-duty, handwelded, steel T-brackets. The "top of the T" affixes to the wall at 2 points (each), one above the other. They are affixed using 1/4 inch toggle bolt anchors or woodscrews directly into the stud. The bracket's support arm (ie. the flat piece of metal one which the "table" rests) extends out from the wall ~11-1/2 inches.
"How does the cable management work?" Each Floating Record Player Table comes with a Quint powder coated steel cable management cubby in either black (with walnut) or white (with maple). The unit is affixed to the bottom of the wood slab in the center towards the rear with ample space for the typical turntable and speaker power and speaker wire bundle. The end result: All power and speaker wire is hidden from view with only a single power cord (extension cord) visible, feeding from the bottom (see images).
"Can I install on drywall / sheet rock / brick / plaster / other?" The hardware provided is ideal for drywall with lumber studs. However, installation is possible on most surfaces but in some cases may require specialized hardware. If the wall surface you plan to install into is one of these alternative surfaces, we suggest researching the best hardware for that surface and speaking to an expert who can make a recommendation based on the size and weight of the floating table.
"Do they come stained? Can I stain or paint them?" Our products are not stained or painted, but they are sealed using solvent-based polyurethane to protect them from moisture, sun damage, and to bring out the natural rich color of the wood. They, therefore, cannot be stained. However, they can be painted. Please consult your local hardware store or paint expert for details.
Deep Cut products are handcrafted in small batches to the last detail in our Minnesota woodshop. We make things that help you get more enjoyment out of your home. Records, books, plants, cocktail culture, the kitchen, games - if it helps you get joy from your space, we want to help and with style. We source the most premium hardwood materials from local suppliers and do everything we can to preserve the natural beauty of those materials while making things that will last. Each piece is designed to be easy to install for most DIY skill levels in a variety of environments.
Deep Cut products are made produced in small batches with tender love and care. Although most orders ship within 1 - 4 business days, production scheduling can vary. Please allow 3 - 7 business days for for orders to be fulfilled within the US market.
NOTE: Walnut Wall Cubes are currently 2 - 4 weeks out from shipping. For more info, please contact rich@deepcut.co
Domestic Orders: We use UPS Ground as our primary carrier services for most shipments. These services typically deliver between 2 - 5 business days. For some products, you will be given the option of USPS First Class OR UPS Ground. USPS First Class also generally delivers within 2 - 5 days of shipment.
International Orders: We use USPS International Priority or UPS International depending on the destination and product. Delivery timelines are very difficult to guarantee based on current global logistics. All duties, taxes, and other fees associated with the destination countries policy are the responsibility of the purchaser.
---