Records & Cocktails: How to Stock a Great Home Bar
We at Deep Cut enjoy a tipple from time to time, so we thought we would share some of the wisdom we have learned over the years about liquor as home decor.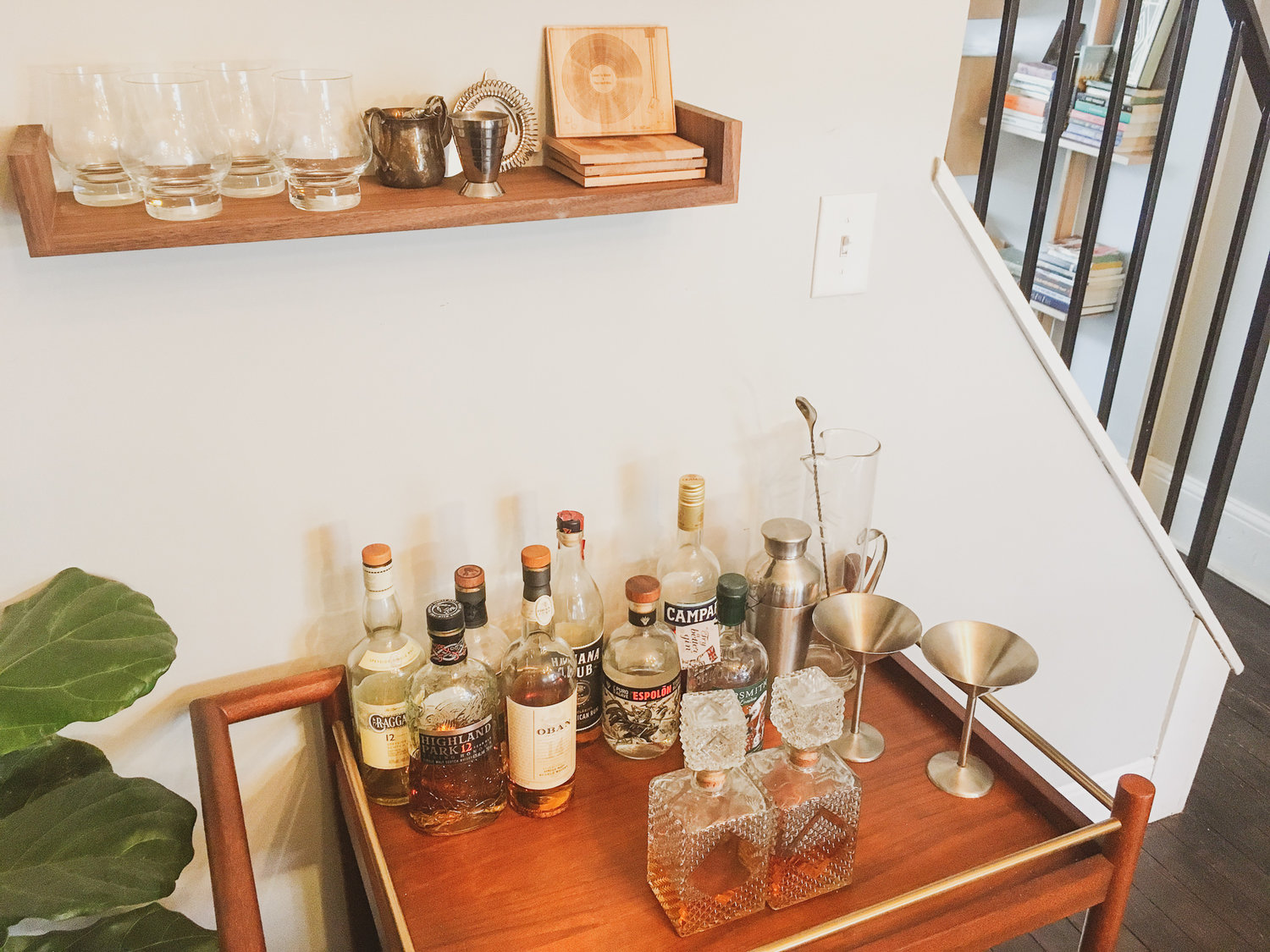 Function Over Form
Your home bar should be something that you enjoy using as much as you enjoy looking at. You want to start with the basic ingredients to make a good drink. For aspiring mixologists, you will want to keep a few staples: a good gin, vodka, and whiskey, for instance. You will also want some ingredients to flavor your staples, though most of these should end up in the refrigerator (lemon juice, lime juice, simple syrup, vermouth – yes, vermouth. If you don't know why you don't like vermouth, it is because you have let it spoil on your shelf).
We highly recommend that you consult with the blog and book 12 Bottle Bar as you build your stock. They explain some of the basic principles of the cocktail and offer hundreds of recipes that don't require obscure cordials or extracts. Their word is not gospel, of course. They will tell you to keep two bottles of rum (amber and white) and a bottle of a Dutch spirit called jenever, but only one bottle of whisky (rye). We think three bottles of whisk(e)y (rye, bourbon, and scotch), and zero bottles of rum and jenever (which is better known around these parts as as "skanky gin"). Regardless, the 12 Bottle Bar folks will give you a very good base of information to work from.
Accessorize
Unless you're going to tend bar professionally, you don't need bar tools. But they do make drink preparation easier and can make attractive show pieces as well. You will want to start with a jigger, cocktail shaker, bar spoon, and strainer. The Marilyn Tall cocktail shaker is one that we use and endorse. It looks great and, because the lid rests inside the tumbler, it easy to shake without spilling. You could also go with a Boston shaker. These shakers are fiddlier to work with and aren't as attractive when not in use, but bartenders seem to prefer them for practical reasons. The cocktail instructors at New Deal Distillery, for instance, will tell you that, on a busy night, it is very handy to be able to see what you poured into the shaker before you had to walk a party of eight through the evening's rotating taps. If you aren't making drinks for a large party, however, you probably won't notice the advantages of a Boston shaker and will be perfectly happy with a nicer looking, all-in-one cobbler shaker.
You will find a strainer handy when you want to separate your martini from the melting ice in your shaker. Here, you can choose between a Hawthorn strainer and a julep strainer. The julep strainer looks more attractive, and you will see it frequently in nicer cocktail bars, so it will look great as a decorative piece. You may find the Hawthorn easier to work with.
If you have the space, add a mixing glass and muddler (for stirred cocktails like Sazeracs and Old-Fashioneds) and a second jigger with different measurements.
Improvise
Once you have your staples and your tools, it is sometimes fun to add some smaller flourishes. With the help of our buddies over at On the Rocks, you can make some of those giant, perfectly clear ice cubes that make $20 speakeasy Sazerac look so cool. We keep a constant stock of the clear spheres and cubes in our freezer at all times. Swing top bottles are helpful for your fresh mixers (lemon juice, lime juice, simple syrup). Fill a Ball jar or something similar with confectioners' sugar (handy if you need to rim a glass, when you make a sidecar for instance).
Local Flavor
If you have the opportunity, bring home some samples of interesting liquors and liqueurs from local distilleries. The strength of your local cocktail scene will have a big influence on whether this recommendation is at all helpful. For better or for worse, one of our founders used to live in Portland, OR, where there were 10 distilleries in a five-mile radius. He found a ginger liqueur from New Deal Distilling, and now refuses to make a hot toddy without it. He also has 1.5 oz bottles of Bluebird Alpine Liqueur from Townshend's Distillery (which, kid-you-not, distills alcohol from the byproduct of Kombucha fermentation). He also got a bottle of purple Empress Gin on a weekend trip to Victoria, BC in Canada. These are items that can be helpful in the look of your bar, and can also help you develop some of your own unique signature cocktails.
But above all else…
Your home bar should be something that suits you and your style. For some, that could be a 40-bottle set complete with crystal decanters and marble coasters. For others, it could be a favorite bottle and a couple of glasses. Either way, setting up a good home bar can (and should be) a lot of fun. And some Deep Cut Shelves might just be part of your set-up. Some of our early customers have incorporated our shelves in their home bars, as you can see below. That is more than fine with us.
Want to see more like this and to hear about product announcements, promotions, and all kinds of good stuff (don't worry, we go quality not quantity)? Subscribe here…
Leave a comment
Comments will be approved before showing up.
---
Also in Blog: Deep Cuts
What. A. Year. New website, new products, babies, travel, new team members. It's been a wild ride up north, and (almost) all for the better in our book. What stayed the same? We still love hand-making pieces that help you enjoy your home and your favorite things. We still love seeing what you do with them. We still love the beautiful indoors and listening to records. What changed? So much...
We want you to crush this holiday. We want each of your gift recipients to shed a single tear that catches the glint of candle light just as a light snow begins to fall on the handbell choir that has gathered to serenade the class of orphans that has come to the town square to pick out a kitten from an miracle litter at the humane society. And we want them to say 'This [sob] is what Christmas means to me." And if the gifts in your own stocking would earn the side-eye from the Goodwill donations rep, we'd like you to have some ideas for yourself as well.
...
here are 10 record players that we love to look at AND listen to. From vintage turntables to modern players, there's something in here for almost any aesthetic.